Featured Products
Join us for the Greater Houston Shop Hop
2016 Dates Coming Soon!!!
ALERT TO ALL BUNNY HOPPERS:

All orders

over $30

placed during the hop , enjoy
FREE SHIPPING!*
*Free shipping processed at checkout; it will show shipping being charged when the order is placed but the shipping costs will be REMOVED when it is processed.

The May bunny LOVES our selection of FABRIC!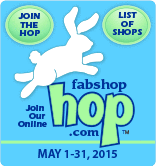 The June bunny has a need for THREAD...